C-Thru Nexus® 30 Battery Recycling Bin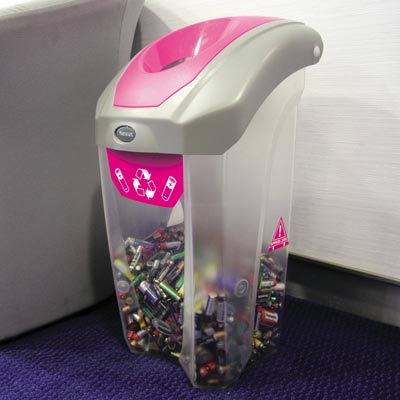 Precio sin IVA*, con costo de transporte** :
* Precio no incluido el Impuesto sobre el Valor Añadido.
** Para entregas en direcciones en la Península Ibérica,
el costo de transporte corre a cargo de Glasdon Europe.
For more information or to place an order, please contact our sales office on +966 54 990 0540 or e-mail: info@wasteandrecyclingsolutions.com.


Made in the UK

Made from recycled material
C-Thru Nexus 30 Battery Recycling Bin incorporates easily identifiable graphics and a clear bin body to prevent cross-contamination of waste and allows the operator to see when the bin needs emptying.
C-Thru Nexus 30 Battery Recycling Bin is supplied with a handle on the back to help decant the batteries when emptying the bin. A warning sticker on the side of the bin body indicates when the bin weighs approximately 25kg, so the operator can empty the unit safely.
Design Features
Moulded-in hidden sack retention.
Pivoting lid and lid stay.
Handle.
25kg weight warning sticker.
Colours
Bin Body: Clear
Lid: Mid Grey
Aperture: Magenta
Materials
Bin body: Clear Duratec™
Lid: Duratec™
Dimensions
Height: 626mm
Width: 335mm
Depth: 308mm
Capacity: 30 litres
Weight: 2.8kg