Topsy 2000™ Litter Bin with Billy Bin-it™ Symbol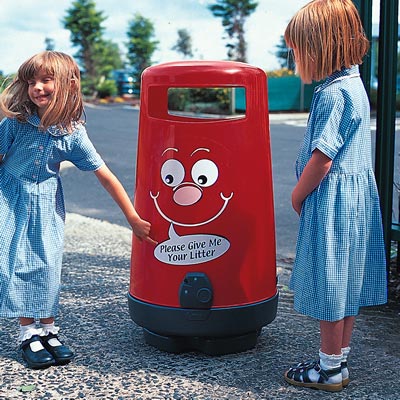 Precio sin IVA*, con costo de transporte** :
* Precio no incluido el Impuesto sobre el Valor Añadido.
** Para entregas en direcciones en la Península Ibérica,
el costo de transporte corre a cargo de Glasdon Europe.
For more information or to place an order, please contact our sales office on +966 54 990 0540 or e-mail: info@wasteandrecyclingsolutions.com.


Made in the UK
Brighten up your litter collection with the Billy Bin-it character.
Available with Topsy 2000, Luna or Commodore Litter Bins, Billy Bin-it makes responsible disposal of litter fun for children of all ages.
For detailed product specifications, please refer to the Topsy 2000, Commodore and Luna Litter Bins.
Design Features
Keyless locking system or 5-point keyed lock.
Zinc-coated steel liner or moulded plastic liner.
Colours
Hood: Bright Red, Yellow, Light Blue, Dark Blue, Light Green, Deep Green, Black, White, Light Grey.
Plinth: Dark Grey.
Materials
Bin body: Durapol®
Metal liner: Zinc-coated steel
Moulded plastic liner: Polyethylene
Dimensions
Bin volume: 110 litres
Liner capacity: 90 litres
Height: 1000mm
Diameter: 545mm
Weight: 15kg (with steel liner)