Nexus® 2.5 Desktop Recycling Unit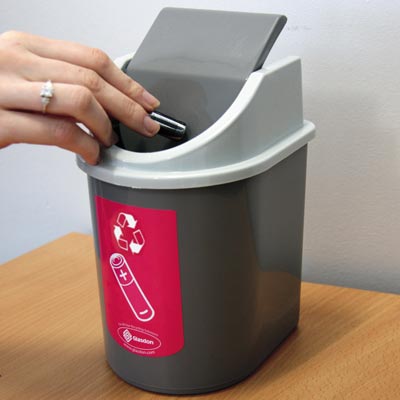 Precio sin IVA*, con costo de transporte** :
* Precio no incluido el Impuesto sobre el Valor Añadido.
** Para entregas en direcciones en la Península Ibérica,
el costo de transporte corre a cargo de Glasdon Europe.
For more information or to place an order, please contact our sales office on +966 54 990 0540 or e-mail: info@wasteandrecyclingsolutions.com.

The Nexus 2.5 Desktop Recycling Unit is the perfect companion to your recycling centre-based scheme. Nexus 2.5 allows users to save up small amounts of recyclable material for trips to a central recycling point. This reduces time away from your desk and the temptation to simply drop recyclable material into the nearest rubbish bin.
Measuring 140mm x 161.5mm, Nexus 2.5 takes up minimal space, and its 'D' shape will let it fit just about anywhere on your workstation.
The bin has a flip lid to keep contents tidied away and the whole top is removable for easy emptying and cleaning.
Nexus 2.5's smooth surfaces can be personalised with a choice of standard recycling graphics or your company's logo.
Design Features
Removable lid.
Recycling sticker.
Sold in quantities of 6.
Colours
Bin Body & Flip Lid: Dark Grey
Lid: Light Grey
Dimensions
Height: 217.5mm
Width: 140mm
Depth: 161.5mm
Capacity: 2.5 litres
Weight: 0.2kg