Nexus® City 140 Litter Housing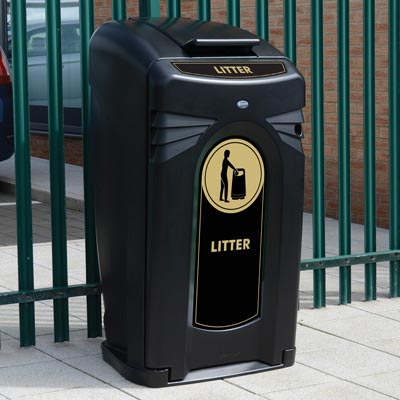 Precio sin IVA*, con costo de transporte** :
* Precio no incluido el Impuesto sobre el Valor Añadido.
** Para entregas en direcciones en la Península Ibérica,
el costo de transporte corre a cargo de Glasdon Europe.
For more information or to place an order, please contact our sales office on +966 54 990 0540 or e-mail: info@wasteandrecyclingsolutions.com.


Made in the UK

Made from recycled material
Nexus City 140 is a large capacity, attractive litter housing.
Nexus City 140 houses a wheeled bin of up to 140 litres capacity to collect large volumes of litter without causing manual handling issues for operators.
The housing features a secure waste chute and aperture flap that keeps litter contained within the unit and keeps pests and vermin out of the liner. The lid has a soft-close mechanism that ensures it will always close after opening.
The base of the housing has a ramp to make insertion and removal of the liner a simple task, and wheel location points ensure the wheeled bin always lines up with the aperture.
Design Features
Houses a 140 litre wheeled container.
Curved sloping hood prevents waste being left on top of the bin.
Robust aperture flap with large handle and durable stainless steel hinge.
Soft close mechanism ensures aperture flap always closes quietly.
Aperture flap is designed to create a seal, keeping vermin out and odours in.
Large, clear graphics promote correct use.
Smooth surfaces inside and out make cleaning the housing a simple task.
Double-skinned construction adds stability and strength to ensure a long service life.
5-point interlocking slam-shut door is robust and secure.
Base ramp makes it easy to roll a wheeled container in and out of the housing.
Poster frame kit or personalised graphics are available - please contact us for details.
For personalised graphics options please contact our sales office.
Colours
Bin body, door & aperture flap: Anthracite Grey, Black (contains recycled material).
Materials
Bin body, door & aperture flap: Durapol® Material.
Soft close mechanism: Carbon steel.
Aperture hinge rod: Stainless steel.
Dimensions
Height: 1365mm.
Width: 735mm.
Depth: 735mm.
Weight Bin: 25kg.
Weight Bin and Ballast: 65kg.
Liner Capacity: 140ltr.