Metal Chieftain™ Litter Bin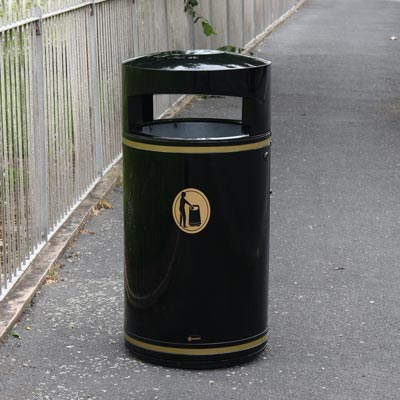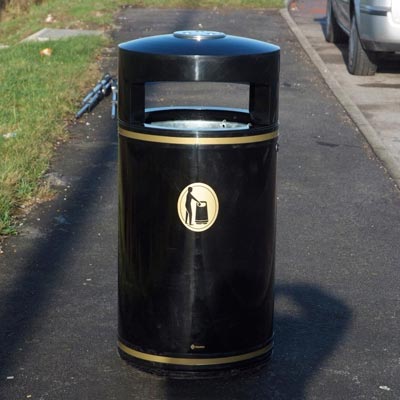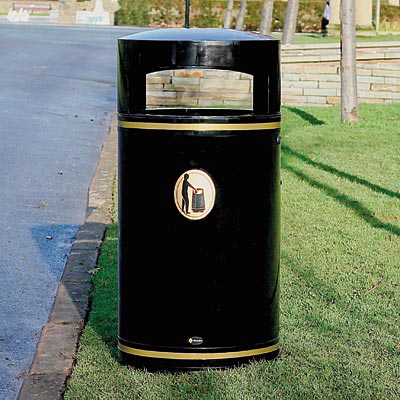 Precio sin IVA*, con costo de transporte** :
* Precio no incluido el Impuesto sobre el Valor Añadido.
** Para entregas en direcciones en la Península Ibérica,
el costo de transporte corre a cargo de Glasdon Europe.
For more information or to place an order, please contact our sales office on +966 54 990 0540 or e-mail: info@wasteandrecyclingsolutions.com.

Metal Chieftain litter bin is Armortec® coated for outstanding durability, which minimises the requirement for expensive refurbishment that is often associated with metal litter bins.
Metal Chieftain has a large front-opening hinged door to allow unrestricted access to the liner. The extremely robust hinge incorporates a stainless steel reinforcing rod that runs the full length of the door.
The tough construction of the litter bin makes it ideal for unsupervised areas.
Design Features
Bin-it Symbol in Gold or Silver.
Two decorative bands in Gold or Silver.
Anti-burst lock - key to open, slam to lock.
Zinc-coated steel liner.
Colours
Bin: Black, Deep Green, Silver/Grey.
Materials
Bin body & door: Armortec® coated steel
Metal liner: Zinc-coated steel
Dimensions
Bin volume: 105 litres
Liner capacity: 90 litres
Height: 1035mm
Maximum diameter: 515mm
Weight: 55kg (with steel liner)